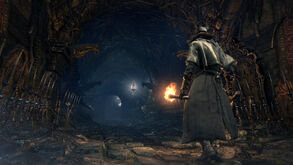 Chalice Dungeons are a type of location in Bloodborne.
Description
In-Game Description
Beneath Yharnam lies an intricate old labyrinth of myriad, endless ruins. By conducting a Chalice Ritual, the seal to the old labyrinth can be broken, allowing you to explore it in the form of Chalice Dungeons.
Select CHALICE RITUAL at a Ritual Altar in the Hunter's Dream, and then select a Holy Chalice and an offering in order to conduct the ritual and unseal a Chalice Dungeon. When using a root chalice, the structure of the unsealed Chalice Dungeon will change each time the ritual is conducted.
Mechanics
Chalice Dungeons are created by conducting a Chalice Ritual at a Ritual Altar. Performing Chalice rituals consume Blood Echoes and chalice materials. They are optional content and act like a dungeon-crawler, with enemies, bosses and items, not found in the main story.
Including the Short Ritual Root Chalice, there are a total of twenty-six Chalices. There are a total of thirty-five named Chalice Dungeons. Each dungeon consists of labyrinth-like "Layers," with a boss at the end of each layer.
Root chalice dungeons are random generated,the others are fixed.
Players are able to co-op in Chalice Dungeons and even share their dungeons for others to experience. Sinister Chalices can be used to create PvP-type dungeons.
Pthumeru Chalice Dungeons
Hintertomb Chalice Dungeons
Loran Chalice Dungeons
Isz Chalice Dungeons
Additional Rites
When the player performs a chalice ritual to create Root Chalice Dungeons, they can perform Additional Rites that will the challenge greater while also increasing the rewards:
Fetid Offering- "Invigorates the Watchers, making them more treacherous than normal, but also making them worthy prey for a special hunt."

Requires Sage's Wrist or Sage's Hair.
A red aura appear on several enemies that boost its owner stats.
Increases blood echoes when slain and increases number of items dropped by enemies.
Enemies gain Rally potential stat, recovering their HP upon attacking the player.
Rotted Offering- "Beckons ungodly forces, normally terrifying things, but also worthy prey for a special hunt."
Cursed Offering- "Defiles dungeons in which hunters' HP is greatly eroded, but what better place to seek cursed blood gems but in the midst of defilement?"
Bosses
There is a boss room at the end of each layer. Tomb prospectors must kill the boss to explore deeper depth
The following is a list of Chalice Dungeons bosses.
Traps and hazards
The Chalice Dungeons contain many fiendish traps deployed by the watchers and the Pthumerians, an advanced civilization of distant past. These traps and hazards are designed to repel and kill off tomb raiders. However, expirienced tomb raiders can exploit these traps to benifit themselves.
Arrows Trap
These traps are activated by a stepping onto a pressure plate on the floor, causing between one and three statues somewhere else in the room to shoot a fire arrow .These arrows can deal huge amount of damage and easily one shot low level hunters. Side step to dodge. On rare occasion, just stand still. Arrow shooting statues can be destroyed.
Ambush
A Labyrinth Watcher (or Beast Patient in Loran Chalices) will be hiding in a wooden coffin and jump out to attack unsuspecting players.
Guillotine trap
They can be hard to detect as first. These traps can easily one shot low level tomb prospectors. Enemies can be lure to this trap to quickly dispose of them.
Swinging Axes
Swinging axes attached to the ceiling, placed upon a narrow brigde. These axes are easy to dodge. However, a ranged enemy often stand guard on the other side of the brigde. If a careless tomb prospector is knocked down from the brigde, he/she will have to deal with many ambushers underneath (ussually Kidnapper and Blood Gel )
Summoning trap
Similar to the Arrow traps, these sumooning traps are also triggered by stepping on specific zone, oftenly a circular blood ritual drawing on the floor. When triggered ,a group of between two and four Labyrinth Watchers will appear around the player in a puff of smoke and immediately start attacking him/her.
Boulder Traps
Boulder traps are nearly always found in T-shaped corridors, and your first clue that one is in the area will be the noise made by the boulder. There will be a loud crash as the boulder drops down at once end of the corridor, followed by a rumbling as it makes its way along it. There are almost always a treasure room at the end of the path that the boulder goes along.
Flaming Boulder
Flaming Boulder traps are exclusively in the spiral staircase rooms. Every time you start going up one of these stairways, listen out for the sound of the boulder rolling down towards you. If you hear one coming, simply run off the side of the stairs to safety and wait for the boulder to roll by.
Spirit Trap
Evil Labyrinth Spirits will appear as ghastly smoke and fog in certain treasure room. they can not be attacked and will materiallized and attack the tomb prospector when he/she open the treasure chest.
Bloodlicker
will be spawn in the room after the player perform a
Visceral Attack
. They are fast and dangerous and infested with
Parasite Larva
.
Videos
Gallery
Ad blocker interference detected!
Wikia is a free-to-use site that makes money from advertising. We have a modified experience for viewers using ad blockers

Wikia is not accessible if you've made further modifications. Remove the custom ad blocker rule(s) and the page will load as expected.